Admission in National Open University Of Nigeria post graduate schools (PgD) is currently on now and the application form is sold for N7,500.
To gain admission in any National Open University Of Nigeria PgD programmes is very easy and straight forward if you meet their requirements.
Follow these simple steps below to buy your application form for any PgD programme in NOUN;
1. Visit the National Open University of Nigeria Official website https://nouonline.net and click on "admission", Click "apply" then select "Apply for a Postgraduate Programme".
2. Choose the faculty you want to apply in to display it's available programmes.. Then select any programme you wish to study to display it's requirements, scroll down and click on "apply".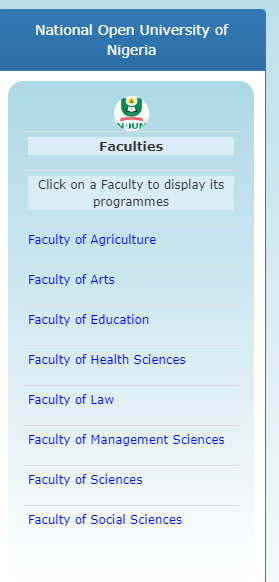 3. On the next page, take your time to fill in your application form correctly..
Click "apply" after filling the form.
4. Now scroll down to the bottom of the page to see your unique ID, and check your mail box for your Reg ID, copy your Reg ID from your mail sent by NOUMIS and paste it on the textbox and click proceed..

5.   On the next page click on pay, you'll be redirected to remita.net to generate    your RRR code. Copy your RRR code down and go to any commercial bank        to make your payment. Please note that the RRR code is the account number you're to pay in your money with, Account name is National Open University of Nigeria.
If you need further help with the process feel free to comment or contact us 😀
Get Course Summaries for your

NOUN Exams

on whatsapp via

08089722160

or Click here.
Also join our NOUN Group Chats for Instant Updates