Every student enrolled at the National Open University of Nigeria (NOUN) is provided with an electronic wallet, commonly known as the E-wallet.
This E-wallet serves as the primary medium for conducting all financial transactions through the NOUN students' portal.
To facilitate any type of payment into your NOUN E-wallet, it is necessary to generate a unique identification number called a Remita Retrieval Reference or RRR.
The RRR is a crucial reference number that enables seamless and secure transactions within the NOUN ecosystem.
By generating an RRR, students can conveniently make payments, such as tuition fees, course registration fees, examination fees, and other related expenses.
STEPS TO GENERATE REMITA NUMBER (RRR) FOR NOUN SCHOOL FEES
1.  Login to your

NOUN student's portal

and click  "E-wallet".
Please note: Only RRRs generated through the link "Generate remita number" from your portal will be recognized by the system later when you'll try to credit your wallet after payment.
If you make payment through an RRR generated elsewhere there might be delay in making your payment reflect in your portal, you'll visit your study centre's bursary to manually credit your wallet.
2.  The next step is to click on "Generate Remita Number" and you'll be brought to this page below, most of your information are automatically filled for you by the system – all you have to do is input the amount you want to pay and select "bank payment" then click "pay".
3.  You'll be redirected to remita.net to get your RRR number and complete your payment. Please note that remita charges extra fees for any payment you made.
For example – If you planned to pay N30,000, an extra VAT charges fee of N161.25 will be added to your fees making it N30,161.25
This VAT fees are not the same, if you're paying with your debit card the VAT fee tends to be more higher than if you're paying via bank branch (cash).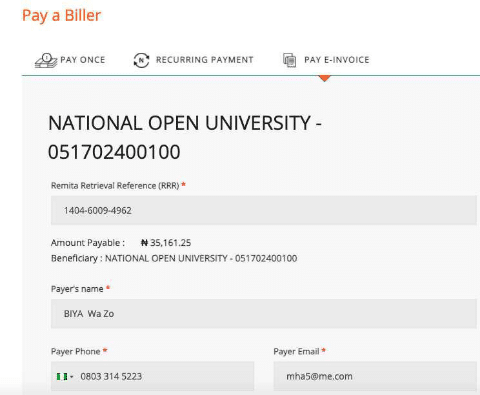 4.  The last step is to copy your RRR code down and proceed to make your payment in any commercial bank or with your card, you'll need your RRR code to credit your wallet after making your payment.
CONCLUSION
When you get to the bank to make payment, The account name you're paying to is "

National Open University Of Nigeria

"  and the account number is your

GENERATED REMITA NUMBER. 
After a successful payment you'll be issued a remita payment receipt by the bank or check your mail for your receipt if you pay with your card. Then proceed to credit your wallet with the RRR code you just paid for.
Warning!!!
New students that always give unknown agents jobs like this listen very well. NEVER make payment to any RRR code that was generated elsewhere other than the one from your portal.
Only make payment to the RRR code that was generated from your portal, check step one of this article. Some scammers will generate a different RRR code for a different stuff and ask you to pay that it's your RRR code, if you try it, your money is gone because you just paid for someone else fees and not yours.
Don't be a victim, a lot of new students have fallen into this subtle scam unknowingly and later learnt their lessons the hard way. If you need help you can always contact us or use the comment sections on our posts to get help. 
Read Also:
Get

COURSE & EXAM SUMMARIES

 for your

NOUN 2023_2 Exams

on whatsapp via

08089722160

or Click here