Hi, welcome to NounGeeks TMA 1 promo for all National Open University Of Nigeria students.
The aim of this promo is to assist our members to solve their TMAs free of charge in just 3 simple steps.
This promo is only open to all members of NounGeeks, both old members and new members to participate in.
HOW TO PARTICIPATE!!
     1.Go to any NOUN group on any social media or whatsapp and ask other students to register on NounGeeks via 

noungeeks.com/registe

r
---
2. Give your invited students your NounGeeks username to input in this option on the registration form.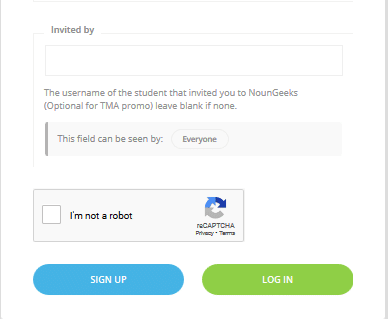 ---
3. Then he/she should SIGN UP and upload a profile picture that's all. After that, You can now send us a message with your matric, password and the username of the new student you invited via whatsapp on

08089722160

and we'll solve any course you want TMA1 free of charge and 10/10 guaranteed.
---
Please Note:
All new invited students will be verified by us before we start solving your TMA.
You can invite as many students as you want, if you have like 5 courses TMAs, Try to get 5 NOUN students to register under your username and have we'll have all your 5 courses TMA1 solved for free!!.
If you registered with us on your own without any invitee during this promo period, you also qualify for a free TMA 1 solving, you can also invite more friends to have more of your TMA 1 solved for free.
 Invited students that registered, AUTOMATICALLY QUALIFIES for a course TMA 1 free solving from us and also, new members can invite their own friends and have more of their TMA 1 courses solved , so it's a win-win for all.
This promo will end on the 21th of May 2021, immediately TMA1 is over…your time starts now!!.
Kindly share to any NOUN student you may know.
Get

COURSE & EXAM SUMMARIES

 for your

NOUN 2023_2 Exams

on whatsapp via

08089722160

or Click here