Kindly take note of these updates from school, meanwhile make sure you're getting prepared for this upcoming exams.
UPDATE ON THE UPCOMING EXAM
POP exam starts on the 9th of November, 2021 (For 300 level students and above).
E-exam starts on the 6th of December, 2021 (For 200 level students and below).
Examination of GSTs mark the beginning of E-exam. All GST courses are E-exams not POP, please don't be confused.
No news concerning Virtual Exam from DEA, virtual exams are not compulsory, it's for those that might be busy or not close to their study centre during this exam period. 
They can apply for their exams to be virtual, that is, they will sit at home or any convenient place and write the exams. But no news yet concerning if virtual exams will be possible this semester.
ISSUES WITH DROPPED EXAM REGISTRATION
Please all Centre Accountants are to collect Matric numbers and names of Students that have genuine cases of courses being dropped after registration because of negative balance and send to studentsaccount@noun.edu.ng .
These Students must have paid to offset their negative and attempted to re-register but could not because the portal display 'Exam Registration Closed'.
Their matric numbers will be verified with the MIS to confirm earlier registration of exams and will be allowed to re-register immediately after verification.
These Students are given till Friday November 5, 2021 to do the needful. It is applicable only for exam registration.
DISCLAIMER: PAYMENT INTO EGODO MFA ERIM'S BANK ACCOUNT
Dear esteemed students of NOUN,  this is to bring to your notice that the trending information on social media about Payment into the said account is a SCAM and NOT from NOUN Management. 
Below is the screenshot of the SCAM Message: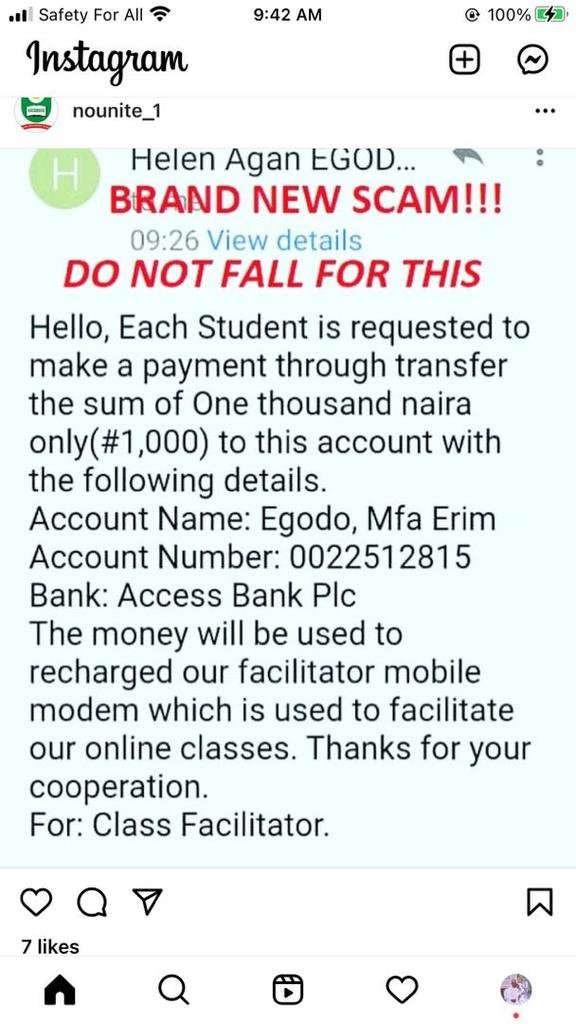 Kindly

DISREGARD

as it is NOT from NOUN.
2021_2 EXAMINATION BRIEFING-Wuse2 STUDY CENTRE
Wuse2 Study Centre, Abuja is inviting all her students to a scheduled Zoom meeting for exam briefing.
Topic:  Wuse2 Study Centre Examination Briefing for Students
Time: Nov 4, 2021 10:00 AM West Central Africa
Join Zoom Meeting;
Meeting ID:  960 9637 1171 
Passcode: 008694
Attendance is compulsory
McCarthy study centre exam clearance
Kindly share with your NOUN friends to update them.
Get

COURSE & EXAM SUMMARIES

 for your

NOUN 2023_2 Exams

on whatsapp via

08089722160

or Click here