Step by Step Procedure for NOUN Course & Exam Registration for Returning/New students.
Follow the steps below to learn how to register your National Open University of Nigeria courses and exams.
Before you proceed, We urge you to check your department's course outline and fees and also how to generate remita to make payment for your NOUN school fees. 
How To Register NOUN Courses 
2.  Next step is to register for the semester before you can register your courses. Returning students semester registration fee is N18,000 while new students (freshers) semester registration fee is N36,000. The price is already set in your portal, just scroll down and submit.
3.   After that, you can now click on "

2022/2 Course Registration

"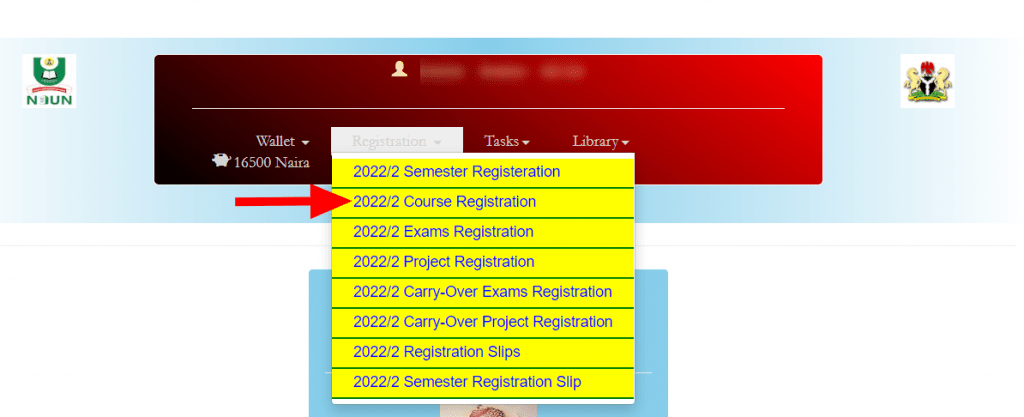 4.  On the next page, select your current semester and level then click "

submit

".  Also, click "

proceed to register level courses

" on the next page.
5.  Now you can register your courses by clicking the "

Add

"  button beside each of the courses listed in your portal. Remember to register your core (C) courses first before registering electives (E).
While adding and registering your courses, be mindful of your credit units not to exceed 24 units and watch your portal balance so you don't over spend without registering for exams. 
6.  Click "

Submit

" when you're done and print your course registration slip on the next page.
That's how to register your NOUN courses but you also need to register for the exams so you can be able to take the assignments (TMA) of those courses registered and be eligible to sit for their exams.
How To Register NOUN Exams
After registering your courses follow the steps below to register the exams;
1.  Click on "2022/2 Exams Registration"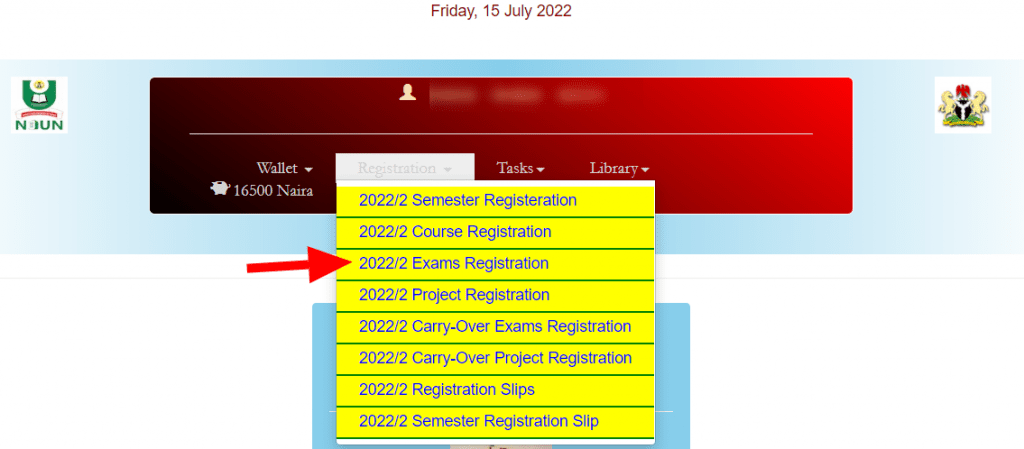 2.  The exams registration fees have been set up automatically while you were registering your courses, so add it up like you did with course registration and click on "

Submit

" and your portal will be debited.
Also print out your registered exams slip just like you did for course registration.
CONCLUSION
Semester registration is compulsory every new semester. You have to register for the semester first, before you can able to register any other thing  in your NOUN portal each semester.
If you register your courses without registering their exams, there won't be an assignment (TMA) for you and you won't be allowed to sit for the exams. So it's a waste of money. Make sure to register the exams of those courses you registered.
Finally, it's not all the courses that requires exam registration (this is for returning students in 300 level and 400 level). Project, seminar etc does not require exam registration, just the course registration is needed. Kindly refer to this article to see the full list of non-examinable courses in NOUN.
If you made a mistake or wish to drop any course you registered earlier, all you have to do is to visit your study centre's ICT department and ask the staff to drop the course and your money will be refunded back to your portal.
We hope you found this article helpful in registering your NOUN courses and exams.
RELATED:
Get

Course Summaries

for your

NOUN Exams

on whatsapp via

08089722160

or Click here