The Vice-Chancellor of the National Open University of Nigeria (NOUN), Prof. Olufemi Peters, has encouraged the University of South Africa (UNISA) to assume a leading role in the rapidly growing field of Open and Distance Learning across the African continent.
In a keynote address delivered on Monday in Johannesburg, South Africa, during the Gala Dinner commemorating UNISA's 150-year anniversary, Prof. Peters emphasized the importance of UNISA taking the initiative in this evolving landscape.
Prof. Peters had been invited to the University of South Africa 2023 MoodleMoot Africa Conference, held from August 20 to 22, 2023, at the Emperors Palace Hotel in Johannesburg, South Africa.
This invitation was a significant part of UNISA's celebrations for its 150-year milestone.
He remarked, "Throughout history, we've seen that there are substantial rewards for promoting Open and Distance eLearning (ODeL). We need only look at the United States of America, the People's Republic of China, or the Russian Federation for evidence. In the competitive educational landscape, humility may not always be the most profitable approach. Hence, UNISA has a crucial role to play in exerting its influence across Africa by enhancing access to education through its profound depth, capacity, and capability".
This leads me to the contemporary matter of academic program offerings, a consequence of the post-COVID-19 pandemic era. One of the most significant strengths of ODL is the flexibility it provides within a specific context.
Recent findings from learning analytics at NOUN have highlighted that flexibility through ODL is the primary factor driving increased access to our institution.
"Flexibility encompasses various aspects, including program offerings, delivery methods, mechanisms, and program duration. What remains to be explored is the flexibility in the structure of the programs or courses we can provide."
Prof. Peters went on to discuss micro-credentials, stating, "Regarding this, I'd like to explore the topic of micro-credentials.
While there isn't a global consensus on the term 'micro-credential,' I align with Oliver's (2019) concise definition, which characterizes micro-credentials as 'digital certification of assessed knowledge, skills, and competencies in a specific area or field.
These can be a component of an accredited program or standalone courses supporting the professional, technical, academic, and personal development of the learners.
"It's worth noting that micro-credentials are reshaping higher education, with institutions recognizing their potential as new learning pathways. This trend is particularly evident in countries like England, the USA, Canada, and Australia (Ruddy and Ponte, 2019; Cabral, 2021). In Africa, South Africa stands out as one of the most active countries on the continent and globally in the realm of micro-credentialing (World Economic Forum, 2017)."
He remarked, We express our gratitude for the invitation extended to NOUN. The University of South Africa (UNISA) and the National Open University of Nigeria (NOUN) share several similarities.
Both institutions are renowned for their commitment to open and distance learning, offering education to a diverse student body.
They utilize technology to reach learners who may not have easy access to traditional classroom-based education, among other commonalities.
We recognize that a wide range of activities has been organized to commemorate the 150th anniversary of this esteemed institution.
Just as great institutions often begin as apprentices under the guidance of older and established ones, so was the early history of UNISA when it was associated with the University of London.
Over time, it has grown into one of the world's largest distance learning institutions, serving approximately 360,000 active students in more than 130 countries. UNISA is undeniably a giant in this field.
Throughout the years, UNISA's unwavering commitment to disseminating knowledge has changed lives, transcended boundaries, and embraced innovation.
"As the saying goes, 'By their fruits, you shall know them' (Matt.7:15). The achievements of UNISA's graduates speak for themselves. They hold influential positions in various sectors across Southern and Eastern Africa. UNISA has truly become an authoritative figure, akin to an "Elder" or even a nurturing "Mother Hen," embodying the principle of expanding and broadening the reach of quality education throughout Africa.
The Vice-Chancellor of NOUN also noted, "One of the aspects that caught my attention about the Vice-Chancellor of UNISA is her passion for pan-Africanism. This concept involves the pursuit of a shared experience of intellectual exploration, entrepreneurial endeavors, commercialization, technological innovation, and practice within the global south, as we have witnessed during our engagement over these past few days".
UNISA's remarkable 150-year journey leads me to ask some pertinent questions: What impact has it had on the African continent? How has it fulfilled its role as a mentor and nurturer, considering its enduring legacy as a distance learning institution?
My first visit to the Republic of South Africa (RSA) and UNISA was in 2004, and I was amazed by the progress I witnessed on the African continent.
The urban landscapes of Pretoria, Johannesburg, and Cape Town resembled those I had seen in my travels to Europe.
UNISA's Pretoria Headquarters made a commanding impression. The scale of operations, including course material development and distribution, was substantial and appeared efficient.
The study center model was impressive, and the Call Center operations were outstanding. I felt hopeful and optimistic. I believed that the impact of UNISA would soon be felt throughout Africa.
However, that was two decades ago, and I find myself still awaiting this profound impact. The landscape remains dynamic, with numerous distance learning institutions emerging across our continent.
This prompts me to ask: "What role is UNISA playing in mentoring these new institutions? Whose model are these emerging establishments adopting? UNISA, the time has come for action. The precarious position of these emerging institutions in the marketplace must no longer be ignored. You stand as the undisputed leader in Distance Learning on our continent, skillfully blending theory and practice with a social dimension. UNISA, you even embarked on an ambitious journey by incorporating other institutions through a merger a few years ago."
He elaborated on the significance of micro-credentials, citing the Malaysian Qualifications Agency (2020), which highlights their role in lifelong learning, re-skilling, and up-skilling. Micro-credentials are aligned with industry and societal needs, often surpassing traditional degrees in terms of dynamism, competitiveness, demand responsiveness, brevity, and cost efficiency.
They also offer benefits such as access, stackability, and recognition of non-formal learning.
He posed the question, "Shouldn't individuals be able to accumulate multiple micro-credentials and convert them into academic credits towards undergraduate, postgraduate degrees, or any accredited program? Shouldn't higher education institutions have the authority to facilitate this process?"
For distance learning institutions, micro-credentials serve as a means to boost enrollment, generate additional revenue, and adapt to the evolving needs of learners in a rapidly changing knowledge and skills landscape.
He emphasized that inflexible credentials in non-flexible domains are no longer effective.
Micro-credentials, according to him, have the potential to address skills gaps in current and future labor markets.
They empower learners to specialize in specific skill areas, especially in an era defined by artificial intelligence, automation, and connectivity, where innovative pedagogies are crucial.
He raised questions about fostering critical thinking, creativity, problem-solving, and active contribution to society.
He acknowledged that mainstreaming micro-credentials in traditional degree-awarding university systems might face policy and regulatory challenges, and he urged institutions like UNISA to champion this cause.
He expressed optimism about UNISA's progress, especially in adopting the Moodle Learning Management System platform.
He highlighted NOUN's significant use of Moodle and its impact on education in Africa.
He envisioned MoodleMoot as more than a conference but a convergence of minds and ideas, where educators, technologists, and visionaries unite to transform education through digital platforms.
He proposed building an e-learning ecosystem designed for Africans, leveraging technology to overcome geographical barriers, connectivity issues, and resource limitations.
This ecosystem would integrate local cultural heritage, languages, and traditions into the curriculum, encourage collaborative learning, entrepreneurship, and skills development for the Fourth Industrial Revolution.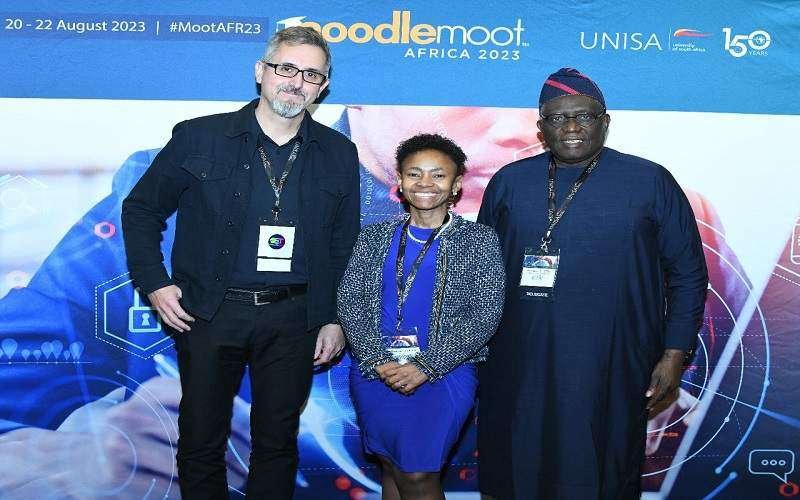 He suggested initiatives like Peer-to-Peer Learning, learning analytics, personalized learning, and multilingual capabilities to address language diversity in Africa and ensure access to quality education.
He emphasized that building a digital ecosystem in Africa requires collaboration and engagement with local stakeholders to create a transformative educational landscape.
In conclusion, he congratulated UNISA, the Open University of Tanzania, and all those involved in making the conference a reality, emphasizing the importance of envisioning the limitless possibilities of the future of education in Africa.
Get

COURSE & EXAM SUMMARIES

 for your

NOUN 2023_2 Exams

on whatsapp via

08089722160

or Click here