Commencement of faculty of sciences 2023_2 practicals
Please be informed that the 2023_2 Faculty of Sciences hands-on Students Practicals that was to commence on 25th September 2023 has been shifted to 3rd October 2023.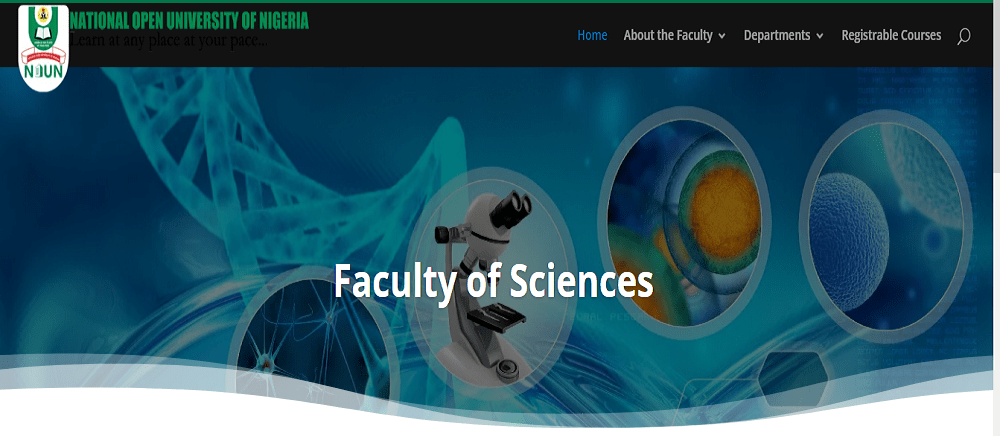 This implies that the hands-on Student practicals will start effective from 3rd October 2023 to 31st October 2023 in all the following designated Study Centres;
North East: Bauchi and Yola
North West: Kano and Sokoto
North Central: Abuja and Makurdi
South East: Owerri and Enugu
South-South: Benin and Uyo
South West: Abeokuta, Lagos and Osogbo
The courses available for the hands-on practicals are attached below in the practical timetable.
The Faculty of Sciences will appreciate the provision of audio-visual devices in addition to other support by Directors of the designated practical Study Centers.
Furthermore, students will be provided with practical manuals at no cost (Practical manuals are not to be sold to students).
Lastly, students are to wear their laboratory coats compulsorily while in the laboratory.
Kindly find the 2023_2 science practical timetable below, swipe to the left to see the other end of the table, Thank you.
FACULTY OF SCIENCES 2023_2 PRACTICAL TIME TABLE FROM 3rd OCTOBER TO 16th OCTOBER, 2023
| | | | | | | | | | |
| --- | --- | --- | --- | --- | --- | --- | --- | --- | --- |
| DAYS | TIME | COURSE | TIME | COURSE | BREAK | TIME | COURSE | TIME | COURSE |
|   |   |   |   |   |   |   |   |   |   |
| MONDAY | 9am- 11am | CHM192/ESM222 | 11am-1pm | BIO211/ESM222/CHM 292 | BREAK | 2pm-4pm | PHY 192/ESM 234 | 4pm-6pm | CIT 104 |
|   |   |   |   |   |   |   |   |   |   |
|   |   |   |   |   |   |   |   |   |   |
| TUESDAY | 9am-11am | PHY 192/ESM234/BIO 211 | 11am-1pm | CHM 192/ESM234 | BREAK | 2pm-4pm | BIO 192/ESM222/CHM 292 | 4pm-6pm | MTH 101 |
|   |   |   |   |   |   |   |   |   |   |
|   |   |   |   |   |   |   |   |   |   |
| WEDNESDAY | 9am-11am | CIT 104/ CHM 292 | 11am-1pm | BIO192 | BREAK | 2pm-4pm | CHM 192/ BIO 211 | 4pm-6pm | PHY 192 |
|   |   |   |   |   |   |   |   |   |   |
|   |   |   |   |   |   |   |   |   |   |
| THURSDAY | 9am-11am | MTH 101 | 11am-1pm | BIO192/ CHM292 | BREAK | 2pm-4pm | PHY 192/ BIO 211 | 4pm-6pm | CHM 192 |
|   |   |   |   |   |   |   |   |   |   |
|   |   |   |   |   |   |   |   |   |   |
| FRIDAY | 9am-11am | CHM 192/ESM222 | 11am-1pm | PHY 192/ESM222 | BREAK | 2pm-4pm | BIO 192/ESM 234 | 4pm-6pm | CIT 104 |
|   |   |   |   |   |   |   |   |   |   |
|   |   |   |   |   |   |   |   |   |   |
| SATURDAY | 9am-11am | CIT 104 | 11am-1pm | CHM 192/ESM234 | BREAK | 2pm-4pm | CIT 104 | 4pm-6pm | BIO 192 |
|   |   |   |   |   |   |   |   |   |   |
|   |   |   |   |   |   |   |   |   |   |
FACULTY OF SCIENCES 2023_2 PRACTICAL TIME TABLE FROM 17TH OCTOBER TO 31ST OCTOBER, 2023
| | | | | | | | | | |
| --- | --- | --- | --- | --- | --- | --- | --- | --- | --- |
| DAYS | TIME | COURSE | TIME | COURSE | BREAK | TIME | COURSE | TIME | COURSE |
|   |   |   |   |   |   |   |   |   |   |
| MONDAY | 9am-11am | CHM 191/ESM103/PHY 291 | 11am-1pm | BIO 191/EMT411/CHM 291 | BREAK | 2pm-4pm | Physics 191/EMT409/BIO 201 | 4pm-6pm | CIT 191 |
|   |   |   |   |   |   |   |   |   |   |
|   |   |   |   |   |   |   |   |   |   |
| TUESDAY | 9am-11am | PHY 191/ESM103/BIO 201 | 11am-1pm | CHM 191/EMT411/PHY 291 | BREAK | 2pm-4pm | BIO 191/EMT409/CHM 201 | 4pm-6pm | MTH 101 |
|   |   |   |   |   |   |   |   |   |   |
|   |   |   |   |   |   |   |   |   |   |
| WEDNESDAY | 9am-11am | CIT 191/ESM103/CHM 291 | 11am-1pm | BIO 191/EMT411/PHY 291 | BREAK | 2pm-4pm | CHM 191/EMT409/BIO 201 | 4pm-6pm | PHY 191 |
|   |   |   |   |   |   |   |   |   |   |
|   |   |   |   |   |   |   |   |   |   |
| THURSDAY | 9am-11am | MTH 101/ESM103/BIO 201 | 11am-1pm | BIO 191/EMT411/PHY 291 | BREAK | 2pm-4pm | PHY 191/EMT409/CHM 291 | 4pm-6pm | CHM 191 |
|   |   |   |   |   |   |   |   |   |   |
|   |   |   |   |   |   |   |   |   |   |
| FRIDAY | 9am-11am | BIO 201/CHM191/ESM 103 | 11am-1pm | PHY 191/EMT411/CHM 291 | BREAK | 2pm-4pm | BIO 191/EMT409/PHY 291 | 4pm-6pm | CIT 191 |
|   |   |   |   |   |   |   |   |   |   |
|   |   |   |   |   |   |   |   |   |   |
| SATURDAY | 9am-11am | CHM 191/ESM103/PHY 291 | 11am-1pm | BIO 201/EMT411/CHM 291 | BREAK | 2pm-4pm | CIT 191/EMT409/BIO 191 | 4pm-6pm | PHY 191 |
Get

COURSE & EXAM SUMMARIES

 for your

NOUN 2023_2 Exams

on whatsapp via

08089722160

or Click here