Hello Nounites, you can now receive group chat notifications when someone posts any update in any of the NOUN groups you belonged to on the platform.
Enabling NOUN GROUP CHAT notifications is very useful and important so that you will know what your course mates are currently discussing about in the school's group or if you need help and you posts to the group's status, other group members will get the notification and reply.
With that in mind, we urge all students to login to their accounts and set up their group chat notifications, to do that, follow these simple steps below:
STEPS TO ACTIVATE NOUN GROUPCHAT NOTIFICATIONS
1) Login to your account and click on any NOUN group you already belonged to, then click on the first menu icon to expand just like on the picture below:
2) Now scroll down to "

Email options

" and click on it.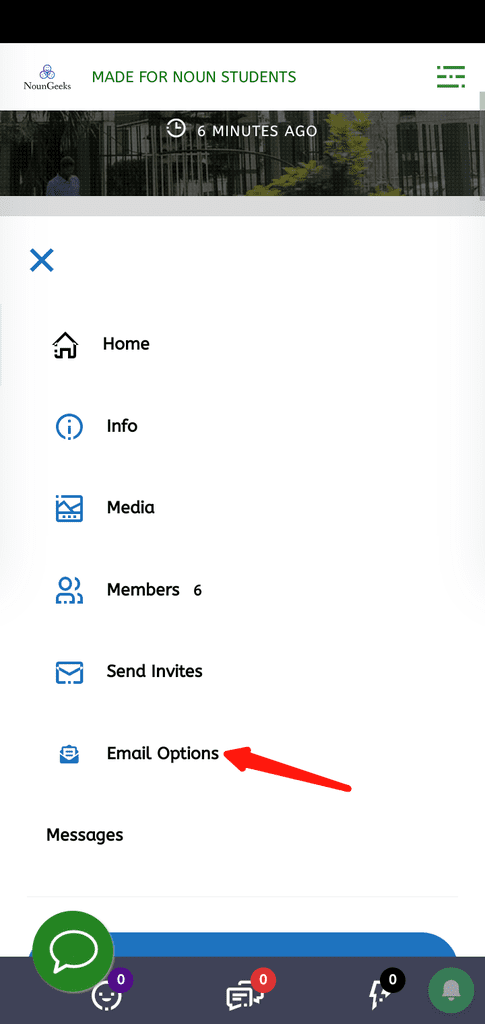 3) It will open up and then you can select how often you want to be receiving email notifications on that particular group's updates, after selecting your preferred choice, please click "
save settings

"
That's it, you will be receiving notifications on any update that is posted in any of your NOUN groups, check below to see how it works;
Depending on how frequent you want to be receiving group updates, it will arrive per your settings in your mailbox.
CONCLUSION:
If you join any new group chat henceforth, you will be getting the notifications automatically, no need to perform the above steps unless you want to change the frequency on how often you want to be notified.
We urge all old members on the platform to do this so that everyone can be carried along, if you experience any issues on the platform, kindly let us know, thank you!
Get

Course Summaries

for your

NOUN Exams

on whatsapp via

08089722160

or Click here