Getting a detailed information on how to calculate NOUN school fees is hard that's why we decided to answer it on this post.
This is the break down of

National open university of Nigeria

school fees and how to calculate your fees for any department.
NOUN admission form is sold for N5000 for undergraduate applicants and N7,500 for PGD/Msc applicants, contact us to process your NOUN admission for you.

Now, going back to the main question, "How much is NOUN school fees?"
→NOUN School Fees breakdown for all undergraduate departments 
100 Level first semester in NOUN, you should budget around N90,000 to N100,000. Here is why its like that;
1st Semester 100 level school fees:
Semester registration fee: N47,000 (Compulsory fee as a new NOUN student)
Course registration fees: 2 units course registration fee = N2,000 and 3 units course registration fee = N2,500.
Exams registration fee: N1,500 for each registered course.
To explain further, let's say you're offering 13 courses this semester which are all 2 credit units, as a new student (undergraduate), your NOUN school fees would be;
N47,000 (Compulsory semester fee)

N2,000 X 13 = N26,000 (Course registration fees)

N1,500 X 13 = N19,500 (Exam registration fees)
Total NOUN school fees for your first semester = N92,500.
NOTE – Some departments might have more courses up to 14 for first semester alone, so you have to pay for all and register them because most 100level courses are core courses in NOUN.
But, if you don't have up to that amount or you feel like 13 courses will be too much for you at the moment, you can reduce the quantity of your courses to 5 or 6 or any amount you can afford to pay or be able to study for the semester.
NOUN major concern is that you pay your semester's compulsory fees.
How many course(s) you register each semester is up to you but have it in mind that you MUST  register those courses you skipped  before you can graduate, i.e you can still come back to register your 100 level course(s) you skipped in your 200, 300 or 400 level.
100 level 2nd Semester registration fees till your 400 level
After your 100 level 1st semester, semester registration fees from your 2nd semester 100 level till your 400 level will now be N18,000 per semester.
Course and exam registration fees are all the same as your 1st semester, i.e, N2000 for (2 UNITS) & N2,500 for (3 UNITS) courses.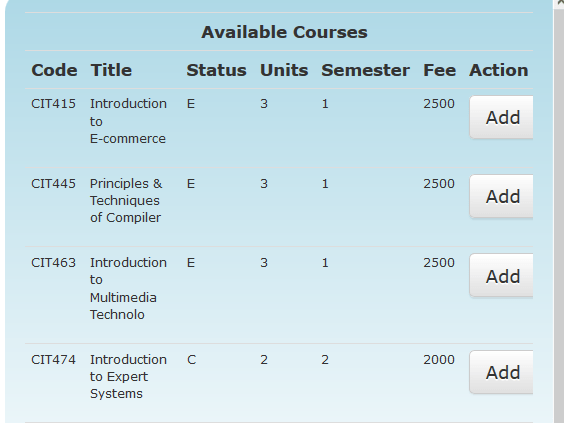 Please note that the maximum units you can register in a semester is 24units. Other course fees to be aware of is IT/SIWES = N15,000 (300level compulsory) and Project = N25,000 (400 level Compulsory).
That's how to calculate your NOUN school fees as a fresher in National Open University Of Nigeria.
You can contact us to process your NOUN admission and get your admission letter within a day on 08089722160.
Related
Get

COURSE & EXAM SUMMARIES

 for your

NOUN 2023_2 Exams

on whatsapp via

08089722160

or Click here