How do i download my NOUN course materials?
You can download your National Open University of Nigeria course materials from NOUN's e-Courseware website via https://www.nou.edu.ng/courseware.
All the course materials on NOUN's e-courseware website are all in PDF format so you'll need adobe reader installed on your devices as a NOUN student.
How To Download NOUN Course Materials 
1. Visit the National Open University of Nigeria's e-Courseware website https://www.nou.edu.ng/courseware. The easiest way to download your course materials is to locate the search bar on the website when you get there.

2. Now input the course code of the course material you want to download. For example; bus105 and click search.

3. The next page that loads will show you a lot of options for the course material you're searching for. Now look for the link showing the course title (name of the course material) and click on it. Check the picture below to understand what i mean.
4. On the next page, click on the pdf logo or the course code to download your course material. You can repeat the steps above to download any other course material you want from the NOUN e-Courseware.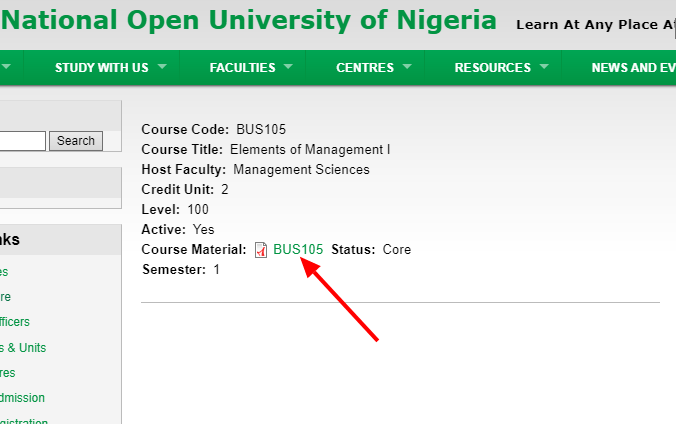 You can also contact us for your course material summaries  (shorter summarized versions of the main course materials for revisions and exam preparation. Meanwhile check out GST107 COURSE SUMMARY to see how our course summaries can be helpful for your NOUN exams.
FOR MORE NOUN UPDATES🔔 CLICK TO